Welcome to the Land of Enchantment!
By William E. Dubois, 2018 Convention Coordinator
  We've got an awesome lineup of events planned for the 42nd Fred & Dorothy Weick National Fly-in in Southern New Mexico, including a mini air race, a flour bombing contest, a special aerial group photo, a maintenance roundtable, a banquet at an airplane museum, and much more—but the crown jewel of this year's convention is our fly-out adventure to America's first commercial spaceport!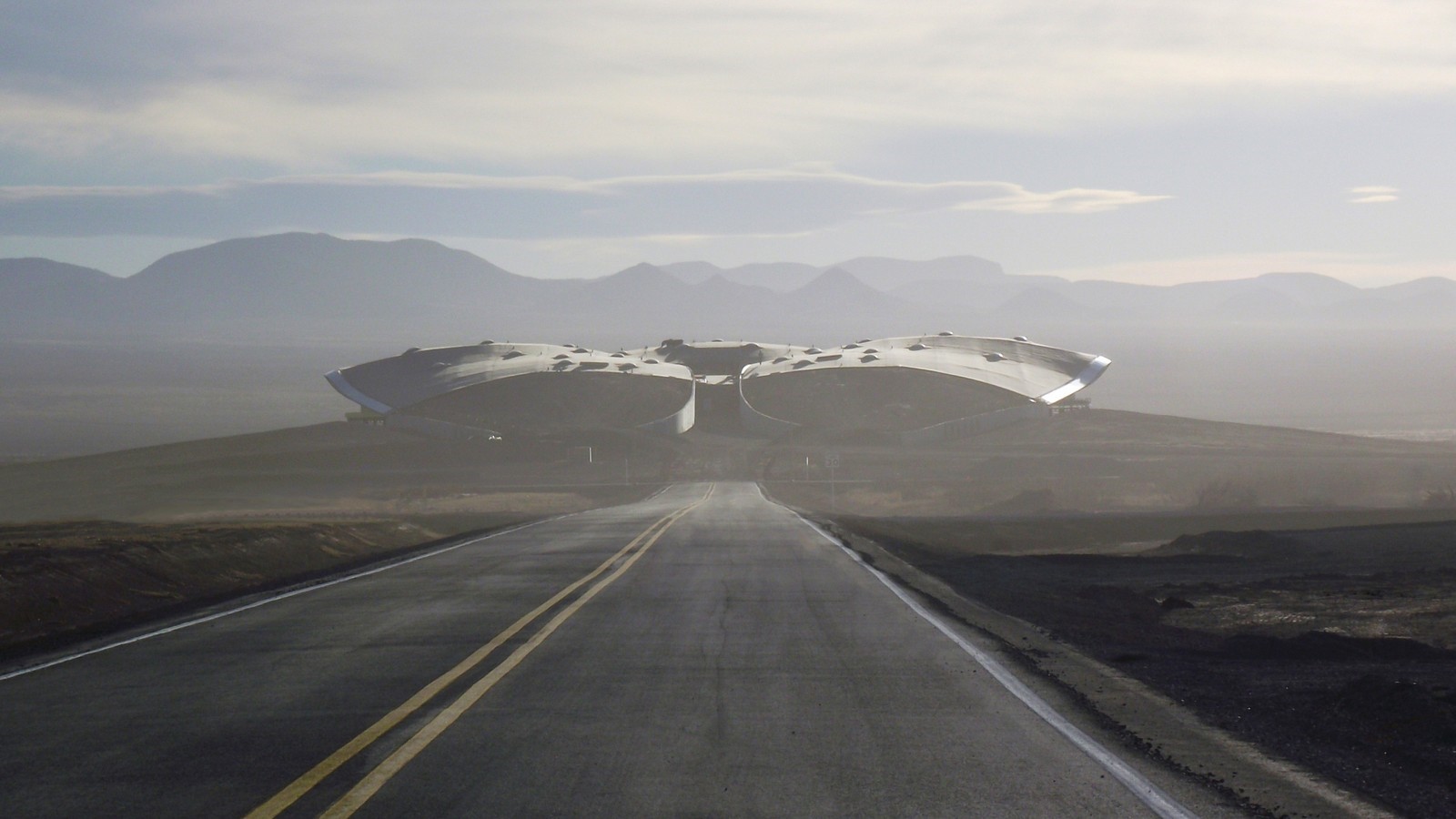 Spaceport America
We've arranged a once-in-a-life time opportunity for EOC members: The chance to land your 'Coupe on Spaceport America's 12,000 foot long, 200 foot wide runway! Located on 18,000 acres an hour's flight north of Las Cruces, New Mexico—host city for this year's fly-in—the 220 million dollar Spaceport is quickly becoming a beehive of Aerospace activity.
We'll land, taxi straight to the "Gateway to Space Apron" in front of the terminal building, and get an exclusive tour of the facility. Our timing couldn't be better, as we're told that Virgin Galactic will be launching space tourists by the time of our convention this fall. The rides into space cost $250,000 each, and Virgin has sold more than 500 tickets! Sorry, no rides into space as part of our convention, but we should be able to see the WhiteKnightTwo mothership and the Spaceship VSS Unity, in addition to the Port itself.
Speaking of all that money: Before you squawk about how much it costs for each of us to land at the spaceport, you should know that the usual landing fee is $1,500 per airplane, and that historically GA aircraft were only allowed to land there only one single day each year. And even that door could be closing. Now that commercial space operations are beginning, our group may well be the last GA airplanes, ever, to be allowed to land.  
The maximum number of airplanes we'll be allowed to bring in? Thirty. That sounds like a lot of slots, but given this unique opportunity, we're betting that the landing slots will fill up in the blink of an eye. So it's first come, first served. If you want to be part of Ercoupe—and space—history, get your registration in ASAP.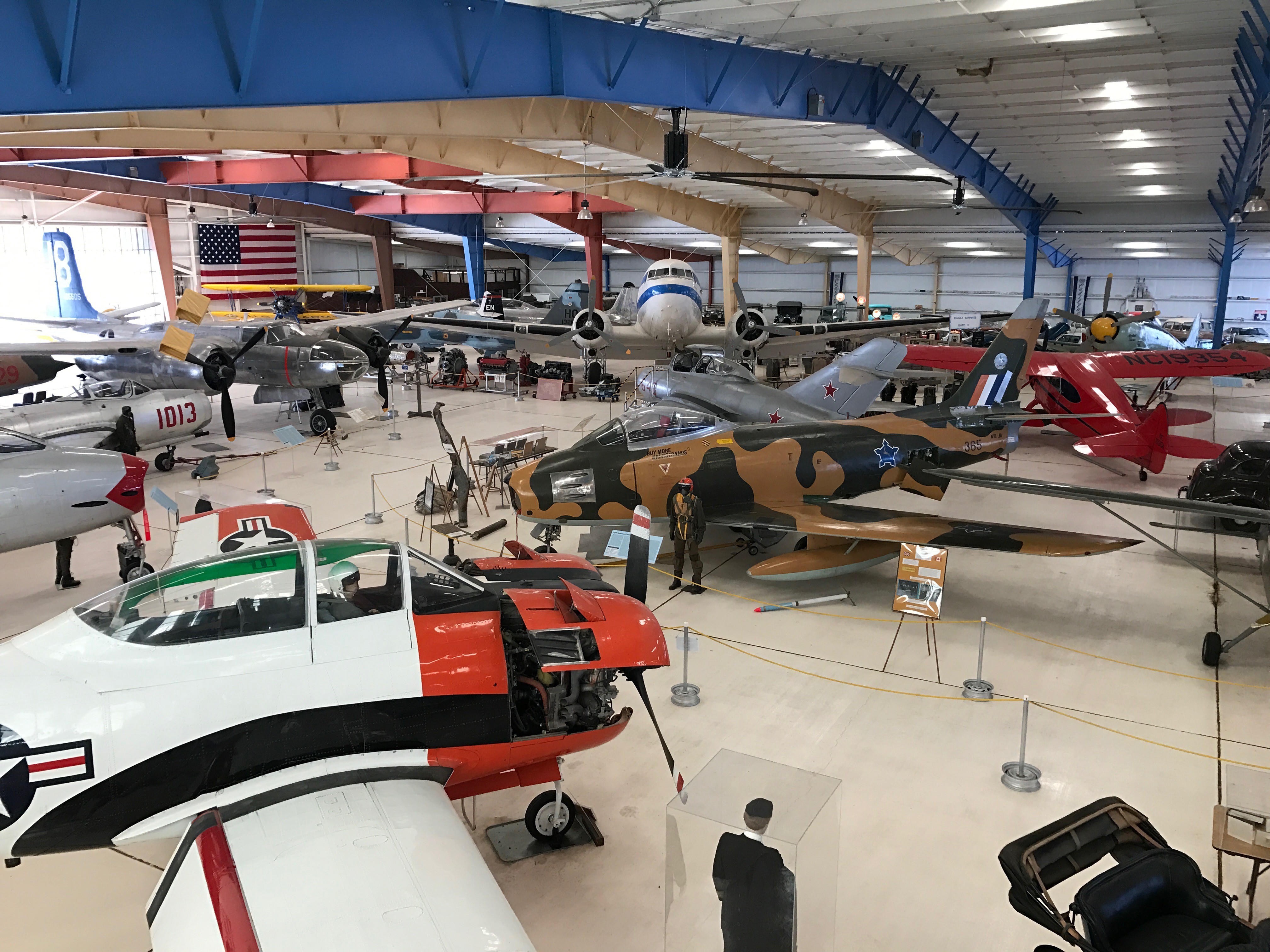 Our banquet at the War Eagles Museum
It's not quite dinner with your airplane, but it's the next best thing: We'll be dining among the stunning collection of aircraft that make up the War Eagles Museum. We'll have the run of the museum after closing, and I'm told that the planes really come alive at night. The collection includes a DC3 Airliner, a Lockheed P38 Lightning, a German Storch, a A-26C Invader, a couple of Mustangs and a gull-winged Corsair, a P-40E Warhawk, a Waco, a J-3 Cub, a Swift, a pink Cessna 140A "Powder Puff Derby" winner (hanging from the ceiling), military jets, and many more planes, plus some antique cars! At last count the museum had 37 aircraft and 52 vehicles, and we'll have unprecedented access to them.
Of course, we'll have our usual awards and a rockin' guest speaker. Not only is it the perfect venue for a type club banquet, but our use of the facility supports this non-profit museum. The food? Southwest fare, with some blander options for those of you without adventurous stomachs, plus two free drinks per person (local beer and wine, as well as the full range of mixed drinks).
The Convention Hotel
Hotel Encanto is amazing! It's infused with Spanish and Mexican Colonial ambiance from the trickling fountain on Saltillo tiles in the lobby to the fabulous pool terrace garden. The Encanto is perched on a hill near downtown Las Cruces, overlooking the Mesilla Valley. We have a block of rooms set aside but don't delay, our convention is during peak season in southern New Mexico and is the same weekend as a country music festival with national headliners, so the hotel expects to be completely sold out by early summer.
Our Host Airport
Don't let the name fool you; the Las Cruces International Airport is a kitten. It's a friendly uncontrolled field with tons of ramp space for our planes. We've arranged for on-field camping for those who want it, as well as motor home/RV parking on-airport. For those of you staying on the field there will be running water bathrooms available, and even Wifi. The airport management and the airport community are excited to have us coming to town, and one of the two FBOs is even offering us discount fuel!
Helpful info and links
Over the summer we'll be sending out flight charts showing the recommended routes into the Fly-in from every direction, along with fuel stops we like. We'll also include some useful tips on high altitude desert flying and other things we think you'd like to know.
Flying in commercially? Book for El Paso, TX, 60 miles away; or Albuquerque, NM, 225 miles away. Both airports are served by all major car rental companies and Las Cruces Shuttle operates a scheduled airport shuttle service between the El Paso Airport and the Convention hotel.
See you in Las Cruces!
The agenda
We'll have an hour-by-hour agenda for you when you land and check in, but here's the cliff notes version:
Thursday: Arrivals, check in, and an evening meet and greet at the convention hotel featuring a cash bar and a wide array of free finger and fork foods including fresh veggies with red chile ranch dip, chips with homemade salsa and guacamole, beef taquitos, petite red chile and cheese enchiladas, mini chicken quesadillas, and the most amazing green chile meatballs any of us has ever tasted.
Friday: The First (and hopefully annual) Ercoupe Air Derby. This is a simplified fun-filled mini air race followed by a "precision" flour-bombing contest. There will be trophies! We've also received permission for drone flights to take a group picture of our planes, and noted General Aviation News Photographer Lisa F. Bentson—who just bought Ercoupe N94116 herself—is planning to arrange our planes on the large tarmac to spell out "EOC" for the picture. Then it's Frito Pie for lunch. Frito pie? It's a local tradition; you'll love it. After lunch we'll have a maintenance round table, the member meeting, and the evening free for personal exploration, or to go to 5th Anniversary Las Cruces Country Music Festival. The lineup isn't set yet, but we're told this is a world-class event with national headliners. If you love country music you'll need to get tickets on your own, but the convention hotel shuttle can get you to and from the venue. The Festival website is: http://www.lascrucescountrymusic.com
Saturday: OMG we are going to the Spaceport! If you're one of the first thirty planes to sign up, you'll actually be able to land your plane on the 12,000-foot runway where space tourists will be taking off from. We can't emphasize enough what a rare opportunity this is, and how much legwork went into making it happen. For those of you coming without planes, we're allowed one bus full of members for a ground tour. Both groups will get exclusive behind-the-scenes tours of the Spaceport, and we should be able to see WhiteKnightTwo and the spacecraft up close and personal. You'll have a few hours to recover once we get back to Las Cruces, then it's off by bus to the War Eagles Museum for our banquet, awards, and benefit auction among the airplanes.
Sunday: We can't have you leave our beautiful state on empty stomachs, so we've timed our convention to mesh with EAA Chapter 555's World Famous "pancake breakfast." Pancake breakfast? Ha! Sure, there are pancakes—three kinds—but there are also freshly made Hatch green chile cheese omelets, bacon, sausage, and more. It's a feast New Mexico, Texas, and Arizona pilots fly hundreds of miles for!